SOAP EVENTS
SOAP EVENT OPTIONS: Cold Process, Melt & Pour, Lotion & Etc.
Contact me to schedule your soap event or to ask me questions.
e-mail: happygoatsoap@yahoo.com
COLD PROCESS SOAP OPTION:
Soap Event for 3 people.
($35-$50 per person)
-Approx. 3 hours
-Adults only
-You will not "learn" to make soap on your own. This is an "event". I will premix the oils, etc. and will work with you each making a fun soap making "event". I will not be answering any in-depth soap making questions.
-You mix lye, goat's milk and oils to creat soap from scratch.
-Make a 1lb ($35) or 2lb ($50) batch
-YOU choose your mold.
-YOU choose your scent-Essential oil or Fragrance oil.
-YOU choose up to 3 extras (colors, exfoliates, etc.)
-Your soap will be unmolded & cut the following day.
-YOUR SOAP WILL CUE/DRY FOR 4-6 WEEKS BEFORE YOU TAKE IT HOME.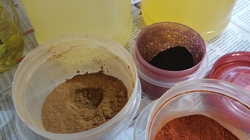 LOTION & ETC. OPTIONS:
PICK 1 ($40 each person) Approx 3.5 hours
PICK 2 ($70 each person) Approx 4.5 hours
-For 2-4 people
Choose from:
-4oz Goat Milk Lotion x 3
-2oz Goat Milk Shimmer Body Cream x 3
-1.5oz Whipped Shea Butter x 3
-3oz Cocoa Butter Lotion Bars/Massage Bars x 3
-1oz Bath Melts x 9
-.15mg Lip Balm x 12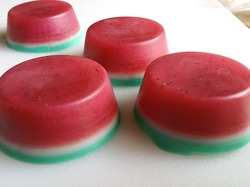 MELT & POUR SOAP OPTIONS:
BED OF ROSES/LAVENDER SOAP MP
($35 per person/$40 for group of 2 working together-split soap)
-3.5-4 hours class
-5 bars (3 full size bars & 2 small bars)
RAINBOW/VALENTINE HEARTS SOAP MP
($35 per person/$40 for group of 2 working together-split soap)
-3.5 hour class
-5 bars (3 full size bars & 2 small bars)
MELON SOAP MP
($35 per person/$40 for group of 2 working together-split soap)
-3.5hr class
-5 bars (3 full size & 2 small bars)
CUSTOM EMBEDDED PAPER SOAP MP
($25 per person/$30 for group of 2 working together-split soap)
-2.5 hr class
-6 ROUND SOAPS
AQUA/CRANBERRY/OR PURPLE OMBRE SOAP MP
($30 per person/$25 for group of 2 working together-split soap)
-2.5 hr class
-5 bars (3 full size bars & 2 small bars)\
FISH IN A DISH
($25 per person/$30 for group of 2 working together-split soap)
-2 hour class
-4 (3.5oz) Bar soaps in a Dish